It's a tradition, here and everywhere else in the known universe, to do year-end "best of" lists. It's cheesy and facile, but it's also a good opportunity to reflect on the year that's passed – the highs and the lows. In a year that had a brutal number of untimely demises, the Miami restaurant world had some as well. The first four dishes in this Part 2 of my Best Dishes of 2016 (
click here for Part 1
) were all served at restaurants that are no longer with us.
(You can see pictures of all of the dishes listed in this
Best Dishes of 2016 flickr set
).
The story picks up here in late February with our second
Cobaya
dinner in conjunction with the
South Beach Wine and Food Fest
, which was hosted by Alex Chang at the
Vagabond
(
read my thoughts
and
see all my pictures
from the Cobaya / SoBeWFF dinner). Chang and the Vagabond parted ways several months ago. He's now back out in Los Angeles but still has some Miami connections: he'll be heading up the new
Broken Shaker
/
Freehand
restaurant in L.A.,
The Exchange
. But it was actually
Andrew Zimmern
's dish that was one of my favorites of that meal, and of the year:
Most folks probably know Zimmern from his James Beard Award winning Travel Channel program, Bizarre Foods. What they may not know is that the guy can also flat out cook. In addition to a silky vichyssoise with a citrus-cured oyster that was served as guests gathered around the Vagabond's poolside bar, he also was responsible for my favorite course of the evening: a riff on an Italian classic, vitello tonnato, done here with thin slices of veal tongue, a tangy anchovy-laden dressing, citrus segments, chile oil spiked fried capers and slivered olives for some punch, and crispy chickpea crackers for scooping.
Whenever we do a Cobaya dinner on our own, people generally know they're going to be in for something a bit different and adventurous. But seats at the SoBeWFF dinner get filled by all sorts of folks, including many who may not quite know what they're in for. So one of the highlights of the evening for me was Zimmern making sure to wait until everyone was about four bites into the dish before giving its description, and letting everyone know that he'd used veal tongue. I'd guess that about a quarter of the diners' jaws dropped. It makes me even more grateful for the support and open-mindedness of the group who come out to our regular dinners.
One of the really great things about this event was to see the teamwork of the chefs and their crews in the kitchen. As Carlo Mirarchi and his pastry chef Sam Short started to plate their dessert, everyone else jumped onto the line to help. The end result was outstanding: a nutty, burnt lemon cake, surrounded by a couple globes of coconut "fluff," with puddles of fragrant meyer lemon curd, a sort of celery jam, and sweet poppy seeds. Too often, these savory-leaning desserts feel contrived; but here, everything improbably made perfect sense together.
sweetbread, tomato, fennel, pickled strawberry - Cena by Michy
Another casualty of 2016: Michelle Bernstein's
Michy's
, which last year renamed itself Cena by Michy (
read my thoughts
and
see all my pictures
from Cena). She's still plenty active and engaged, between
Crumb on Parchment
, a Michy's pop-up for Art Basel, TV gigs, and her work for
Common Threads
, but it is a real loss to Miami that Bernstein closed what has been one of the city's best restaurants since it opened ten years ago. Nobody cooks foie or sweetbreads like Michy.
The decor and menu have changed at Cena by Michy (f/k/a Michy's), but at least one thing remains the same: if there is a sweetbread dish on the menu at a Michelle Bernstein restaurant, it will be outstanding. Case in point: this sweetbread milanese, like a cloud encased in a crispy shell. It's served with a tangy sort of stew of cherry tomatoes and fennel ribbons, with a wonderful little surprise: pickled strawberries, which provide little jolts of refreshing, sweet-tart contrast.
clams and rice - Bazi
Michael Pirolo's
Bazi
, a high-end Asian venture for the chef whose Italian restaurant
Macchialina
is one of my favorites on the Beach, wasn't around long enough for me to really mourn its closing (
read my thoughts
and
see all my pictures
from Bazi). Truth is, I only got there once, for a multi-course "kaiseki" dinner he did for a small seating at the bar. There were several very good dishes, and one in particular stood out.
This is the kind of thing a chef does because they really want to, and maybe because they're a little crazy. Let's not dwell too long on how much this truly resembles a traditional Japanese kaiseki dinner (short answer: not too much). Instead, let's talk about the best thing I ate there: the clams and rice dish Pirolo served as one of the courses.
In this one dish, Pirolo ties together his Italian background and his Japanese ambitions. Diced razor clams are combined with chewy but tender viaolone nano rice, all served in the clam's shell. The rice is prepared in classic "all'onda" fashion, and bound with the clams by an uni vinaigrette which further highlights the flavors of the sea. A shower of fresh lemon balm adds a bright, herbaceous, citrusy note. It's a beautiful dish.
valley between Andes | avocado, tree tomato, kiwicha - Alter / Central dinner
Many of the best things I ate this past year were found in Miami, though not necessarily from Miami chefs. Here's another from an
Alter
collaborative dinner, this time with Virgilio Martinez of Peru's
Central
(
read my thoughts
and
see all my pictures
from the Alter / Central dinner).
"Valley Between Andes" – I later figured out that Martinez's menu at Central features dishes inspired by the products of different elevations of the Peruvian topography. This one included avocado, tree tomato (a/k/a tamarillo), and kiwicha (amaranth seeds). The avocado was so creamy and rich that it almost ate like tender braised beef, napped with a tangy sauce and speckled with the nutty, quinoa-like kiwicha, with shards of translucent, herb-dotted crackers for some textural contrast.
fallen tree | heart of palm, snails, fungi, moss, spores - Alter / Central dinner
While the Alter dinners are collaborations, Brad Kilgore and the visiting chefs tend to alternate courses rather than create dishes together. Even so, sometimes the inspiration of working together can cause the identities of each chef to fade into the background. I would have been hard pressed to know if this was Kilgore's or Martinez's dish if I hadn't been following the back-and-forth cadence of the menu.
"Fallen Tree" – Brad started with a caramelized tranche of heart of palm as the base of the dish, with the other components evoking a tropical forest floor: snails, dehydrated mushrooms, a tangle of green (seaweed?) moss, a pouffe of spring garlic mousse with pickled honshimeji mushroom "spores" poking up out of it.
(continued ...)
During a quick spring weekend trip to New York, we met up with family at
Little Park
, one of Andrew Carmellini's newer venues there (
read my thoughts
and
see all my pictures
from Little Park). This is the kind of place I would visit every week if it was nearby.
I was particularly smitten with the carrot risotto, whose bright orange hues were matched by the brightness of its flavors: wisps of raw carrot contrasting against those cooked into the risotto, the zip of fresh citrus, a scatter of tangy feta cheese, a mysterious whiff of coriander.
A good friend's wedding provided a great reason to travel somewhere that I would have never really considered otherwise: Cartagena, Colombia. The wedding was beautiful, a baby is now on the way, and the whole weekend in Cartagena, food included, was just wonderful. The coastal town tends to favor seafood over the heavier foods of Colombia's mountain regions, and we mostly subsisted on ceviches and
fresh tropical fruits
the whole weekend. My favorite of those ceviches was at a charming little spot called
El Boliche Cebicheria
(
read my thoughts
and
see all my pictures
from El Boliche).
The ceviche de coco was possibly the best I had the whole trip: a mix of seafood including whitefish, shrimp, squid, conch and octopus, swimming in a marinade of coconut milk and aji amarillo, all laced with ribbons of fresh and dehydrated coconut. It's hard to imagine anything could taste more like the Caribbean coast.
kohlrabi marinated with cherry leaves and lemon balm - Birch
My dinner at Ben Sukle's
Birch
in Providence, Rhode Island was simply one of the best meals I had all year (
read my thoughts
and
see all my pictures
from Birch).
I keep lists of restaurants for dozens of cities I've never visited, as if I might get airlifted one day without warning and need to find a good meal. I didn't have a long list for Providence, but I did have at least this one name
.
So when I had reason to visit Providence in June, I didn't look that hard for a same-day return flight, and instead lingered for dinner. It was time well spent.
I lost count at fifty. So let's just say there are at least fifty sheets of kohlrabi, layered in soft, translucent ribbons, that made up this dish. They're marinated with cherry leaves, interspersed here and there with apple, Vietnamese coriander and lemon balm. The whole fragile assemblage is laid atop a base of tangy creme fraiche. It's beautiful, delicate, brightly flavored, unexpected – and also the best kohlrabi dish I've ever tasted.
sweet peas, beach rose, basil, fennel seed and lamb's quarters - Birch
These sweet peas were another delicious celebration of the season, more sugar than starch, bound with cultured butter and brightened with magenta-hued beach rose, basil, zesty fennel capers, and delicate wilted lamb's quarters. I loved the dish.
lightly grilled cabbage - Birch
Instead of the usual slab of meat that invokes the end of the savory dishes on the tasting menu, Sukle went with a tranche of grilled cabbage. The edge was black with char, the interior was soft and silky without being cooked to sulfurous mush. Folded within was creamy rutabaga and caramelized sauerkraut. Speckled on top was an assortment of toasted seeds – sunflower, cumin, sesame. A broth of dried apples was poured tableside. This was a fantastic dish.
Hokkaido uni sushi - Shuko
Fourth of July weekend was a chance for another quick trip to New York, rendered even shorter by a flight delay which nearly botched our reservation at
Shuko
, one of the more recent crop of omakase sushi dens in NYC (
read my thoughts
and
see all my pictures
from Shuko). But they were good enough to squeeze us in the following night, for which I was incredibly grateful, especially after this.
Some sort of sound had involuntarily come out of my mouth. I'm not sure exactly what it was; it may have been a moan. It may have been a giddy chuckle. But when I came back to my senses, I saw that everyone on the other side of the counter was looking at me with an expression somewhere between bemusement and shock.
Shuko is not a stereotypically austere, somber sushi bar: the soundtrack is dominated by old-school hip-hop, and the chefs fist-bump regulars across the bar. But still, whatever I'd done had caught everyone's attention.
It was triggered by this bite of Hokkaido uni: the lobes of sea urchin cold and creamy, with a flavor both briny and fruity, like an oceanic peach, tucked over a pillow of rice into a gunkan maki of crisp nori. Beautiful stuff, worth embarrassing yourself a little bit.
It's a little curious that I had lunch at what is thought of as one of the top restaurants in the country – Daniel Humm's
Eleven Madison Park
– and I never got around to writing about it (
see all my pictures
from Eleven Madison Park). EMP is a very lovely place, ever so posh and polished and perfect. Almost, is it possible, too much so? Like the craftsmanship on a luxury yacht, it's all smooth surfaces and fine joinery – there are no rough edges, nothing to jolt you out of your comfortable leisure, no real surprises. And maybe, as a result, not quite as impactful as some other meals?
Still and yet, it was a really, really nice few hours we spent in that
gorgeous dining room
, a beautifully paced and presented lunch with several highlights, including this reconstructed eggs Benedict with a ring of soft custard, good ham, fresh sweet summer corn, and a generous dollop of caviar in the middle, topped finally with a frothy hollandaise sauce, with some miniature English muffins riding sidecar.
EMP has toned down some of the dining room theatrics I've read about (no card tricks or picnic baskets or carrot tartare grinders); what there was during our meal was more in the nature of old fashioned table-side service, like the asparagus "en vessie"
poached inside a pig's bladder
, then napped with its black truffle poaching liquid alongside a puddle of a silky potato purée. I can't honestly say if the dramatic preparation method really adds to the flavor, but it's a lot more elegant than cutting open a sous vide bag at the table; and it's a really beautiful, delicious dish.
Back home in Miami, we had lined up a
Cobaya
dinner at Paul Qui's intriguing new restaurant
Pao
in the
Faena Hotel
on Miami Beach. It was one of the best Cobaya dinners we hosted all year, and maybe all time (
read my thoughts
and
see all my pictures
from Cobaya Qui at Pao).
I'd been to Paul Qui's restaurant Pao in the Faena Miami Beach once before, very shortly after it opened. I had a good meal – some dishes were great – but it felt restrained, like there was a lot more reverberating under the surface. It almost seemed as if he was cooking for this room, trying to match the polish of the gilded (literally!) ceiling and multi-million dollar Damien Hirst sculpture that is its centerpiece. I wanted to see what he could do if unburdened by those expectations, and just allowed to cook.
This may have been one of the best dishes I've had all year. It starts with fat cluster of maitake mushrooms (a/k/a hen of the woods). The whole thing is glazed with a dense, thick dinuguan sauce, typically a Filipino offal stew enriched with pork blood. Some pink pickled onions provide some tart contrast. Both the glossy brown appearance and the velvety texture here would explain why dinuguan is sometimes called "chocolate meat." Bathed in that intense, rich sauce, this mushroom may have tasted meatier than any steak I've eaten this year. It was a stunning dish.
While Miami restaurant news this past year was mostly dominated by big name out-of-town chefs' openings, we also saw some younger local chefs – particularly those who have trained in some of Miami's best kitchens – get the chance to go out on their own. I wrote about a few of them in this piece in
Edible South Florida
, including John Gallo and Rene Reyes'
Pinch Kitchen
(
see all my pictures
from Pinch).
I'm not much of a dessert person, but there are certain things that hit certain spots for me. The combination of orange and chocolate is one of them, going back to a childhood fondness for the mandarin chocolate sherbet at Baskin Robbins (the flavor was discontinued many years ago, but memories persist). So when I see a dessert with orange and chocolate, I have trouble not ordering it.
Somehow I missed it on my first visit to Pinch Kitchen, a new-ish restaurant opened up on the northern periphery of the "MiMo District" along Biscayne Boulevard by a couple Pubbelly alumni, John Gallo and Rene Reyes. But their short list of desserts includes an orange and chocolate soufflé, baked right inside hollowed out oranges, and served with a classic creme anglaise. I went back for brunch this weekend to try it (and a couple other things).
The soufflé is airy and light but intense with chocolate flavor, drawing some extra citrus perfume as you scrape your spoon across the inside of the orange skin. I don't know if Baskin Robbins is ever bringing back mandarin chocolate sherbet, but this is a good substitute.
chupe de hongos de Quintay - Boragó
Our summer family trip was to Chile, a place which I had seriously underestimated as a culinary destination. What I found was a country with a rich, complex and delicious culinary culture fueled by the incredible bounty of seafood from its extensive coast and a combination of pre-Columbian and colonial ingredients and influences, with a sense of history and tradition as well as creativity and playfulness. That's all embodied in its most internationally well-known restaurant, Rodolfo Guzman's
Boragó
(
read my thoughts
and
see all my pictures
from Boragó).
Boragó operates as a crash course in the cuisine and culture of Chile. One of the challenges of that approach is that if you don't know much going in, it's like showing up for class without having read the materials first: a lot of it may go over your head. I cannot recall the last time I tasted, in one meal, so many things that were unfamiliar and new – used not just for novelty, but because they have a story to tell. The more I understood of the reference points this meal invoked, the more I appreciated it.
This course was served in a wide ceramic bowl, which was brought to the table wrapped in cloth. Inside the bowl was a "chupe" – a stew – of wild mushrooms from Quintay, a town on the Pacific coast due west from Santiago. At the base of the bowl was a thick purée of the richly flavored mushrooms, which had been hung over embers for five hours. Arranged above the purée were several pickled and dehydrated leaves. The server finished the dish by pouring into the bowl whey from pajarito (kefir?) yogurt which had been infused with eucalyptus. This was like the flavors of a forest, concentrated in one bowl: the earthy, meaty mushrooms, their flavors deepened over the smoke; the pickled leaves; the woodsy scent of eucalyptus, all of it pulled together in the lactic tang of the whey. It was a unique and memorable dish.
cuchufli de rosa del año - Boragó
The first dessert, a "cuchufli" of almond paste and preserved rose petals, was a striking visual presentation with a fascinating backstory. The flower petals come from the Atacama desert, one of the driest places on earth, where there is typically less than an inch of rainfall per year. As you might expect, it's a rather barren landscape. But in seasons where there are heavier rains – typically only once or twice a decade – the desert floor blooms for just a few weeks of the year with these roses, whose seeds can lay dormant for years. Last year was one of those years (see some amazing pictures here and compare to what the desert looks like now), and Guzman preserved its bounty for use at the restaurant, These delicate candies, mounted in the brittle branches of desert bushes, were deliciously sweet and nutty and floral.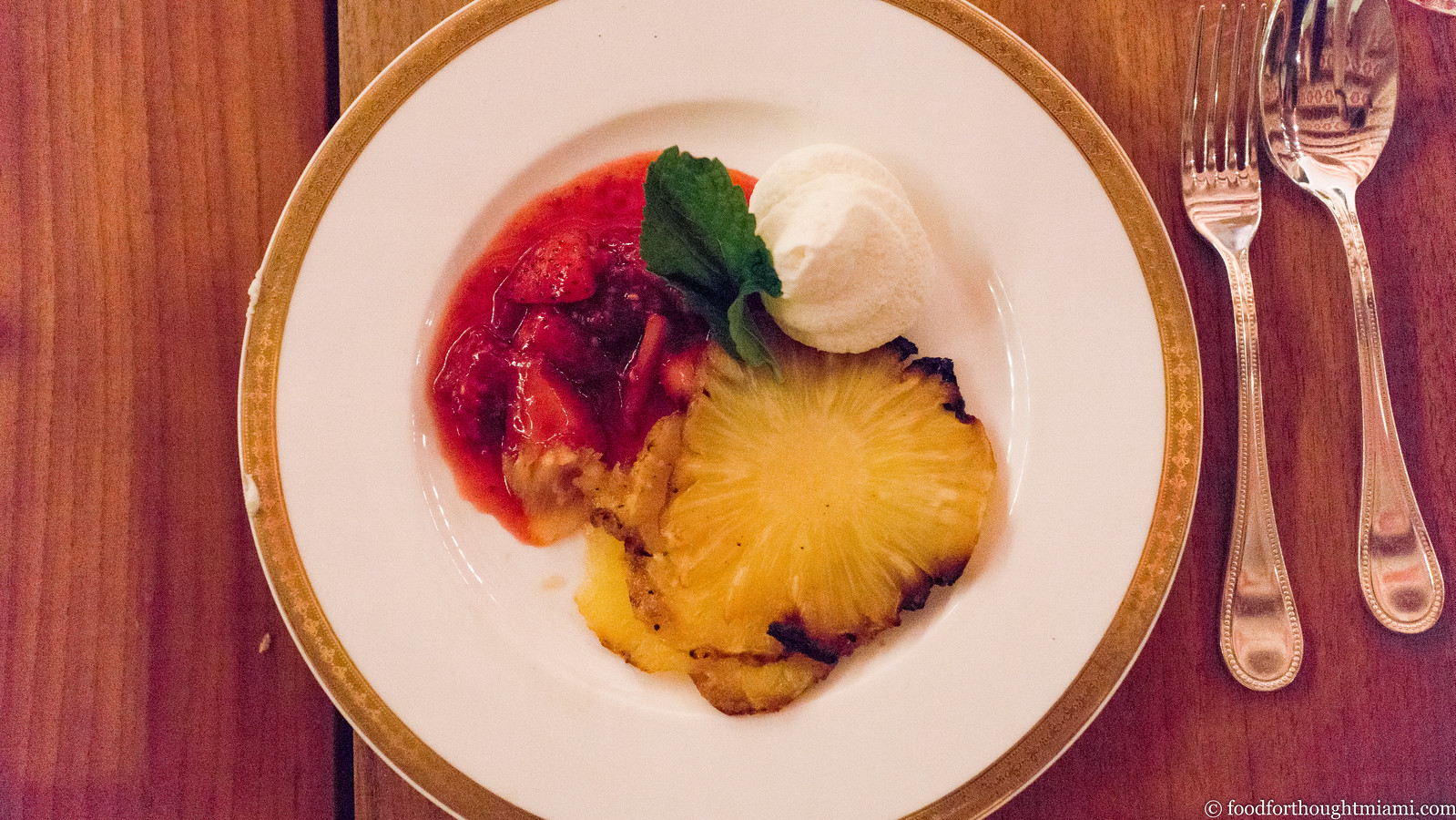 grilled pineapple, macerated strawberries, mascarpone cream - Los Fuegos Cobaya dinner
While we were doing our Cobaya dinner at Pao, Qui's neighbor at the Faena – legendary Argentine chef Francis Mallmann, who also has a restaurant,
Los Fuegos
, in the hotel – popped by. He was intrigued. And so a couple months later, we were back, doing a dinner with Mallmann. Needless to say, it involved lots of
wood fire
and
grilled meats
. But the surprise favorite for me was the dessert:
Then Los Fuegos' chef Vitor Perim set about slicing the whole pineapples which had also been cooking over the fire as we arrived. In fact, they'd been cooking for the past seven hours. Still juicy and sweet, and silky soft (the core was as tender as the flesh), the pineapple was also entirely suffused with the smoky perfume of the fire. It was a pretty magical combination. The rounds of pineapple were served simply with macerated strawberries and a mascarpone cream; the fewer distractions, the better.
And that, my friends, wraps up Part 2 of my best dishes of 2016. Read
Part 1 here
, and
Part 3 here
.